This is the second of two posts on how EFCA churches responded to the death of George Floyd and the protests and riots in Minneapolis that took place afterward. This post looks at the EFCA churches of New Hope Church, The Grove Church and Trinity City Church. 
"And I must say tonight that a riot is the language of the unheard. And what is it America has failed to hear? … It has failed to hear that the promises of freedom and justice have not been met. And it has failed to hear that large segments of white society are more concerned about tranquility and the status quo than about justice and humanity."
Martin Luther King 
"Before anything else PRAY…. PRAY for healing, for racial reconciliation…"
Mike Richards of CrossPoint
He has told you, O man, what is good;
and what does the Lord require of you
but to do justice, and to love kindness,[a]
and to walk humbly with your God?
Micah 6:8 ESV
Steve Treichler's picture from a protest march in Minneapolis.
Note this video from the New York Times is graphic and is hard to watch. 
This is the second of two posts that this blog has done. If you want to read the first post you can do so in, "A Compilation of How EFCA Churches in the Minneapolis-Saint Paul Area Are Responding to the George Floyd Protests, Riots and Unrest Part 1." What this blog is doing, is capturing how the EFCA in the Minneapolis-Saint Paul area is responding to the death of George Floyd and the riots. This post looks at how Matthew St. John's New Hope Church, Scott Foster's The Grove Church and Bryan Lair's Trinity City Church responded. This post preserves to the best of my ability the social media regarding those three EFCA churches in regards to the riots that took place and the loss of George Floyd. The first church that this post will look at is New Hope Church which is a mega church in the western suburbs of Minneapolis. 
New Hope Church in New Hope
New Hope Church is a mega church of 3,000 members in the community of New Hope. It is currently lead by Matthew St. John. Over the week New Hope was active on Facebook in calling for people to pray for our city of Minneapolis. They also viewed the conflict as a part of spiritual warfare. In the process they also called on people to remember George Floyd. You can see all the social media postings of New Hope Church below. New Hope has also been giving away clothing, food and items of personnel hygiene for those affected by the riots and have a dedicated webpage for their effort which you can access here. On Twitter New Hope's senior pastor retweeted a number of tweets concerning social justice. The May 31, 2020 message started out with Ryan Fair talking about how he grew up in the inner city of Chicago. He also talked about how he lived in both north and south Minneapolis and how much he cried for the city. Hate and intolerance doesn't just hurt individuals it hurts society at large. Ryan Fair wants people to reflect on how we got here and want to lament.  When Matthew St John spoke about how the church has failed to talk about racism. The church needs to take on the issues of racism, white supremacist ideology and hate.  The senior pastor believe that Jesus is the one who can bring healing and hope to those hurt by racism. He also said that Jesus wants white to weep with those of color, and how we need to recognize bias and also address white privilege. And people need to repent of racism and the ugliness of that sin. Paul Schoolmeesteers also led a moment of silence in lamenting the loss of George Floyd's life. You can listen to this talk up above.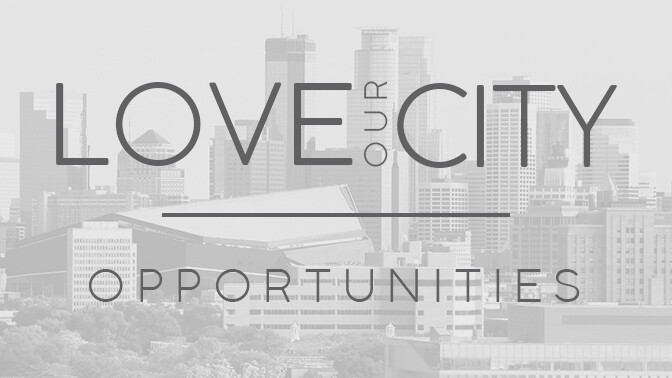 We grieve the murder of George Floyd and seek justice for him and communities of color facing inequity in our state. We desire to see buildings that were damaged or destroyed rebuilt and Jesus Christ honored as we seek the flourishing of our cities.
IN-KIND DONATIONS
Drop off donations at New Hope Church, Monday–Friday, 8:30am–4:30pm
We're collecting donations to assist those who no longer have access to local stores. Our desire is to be a good partner to the churches and organizations serving in Minneapolis and St. Paul, helping supply them with what they ask for since they know best what their neighbors need.
Items needed:
Diapers & baby wipes
Hand & laundry soap
Laundry soap
Toothpaste
Feminine hygiene products
Deodorant
Shampoo
Razors & shaving cream
MONETARY DONATIONS
The One Fund supports the work of local African American churches and ministries whose communities, due to historic inequities, are disproportionately impacted by the recent crises in our Twin Cities.
SERVE
For opportunities to serve, check out the events tab on the Support the Cities Facebook page. This list is updated as new opportunities arise.
EDUCATIONAL RESOURCES
One of the best ways we can help during our local and national unrest is to educate ourselves. There are many informative resources that speak to the historic inequities that people of color face. One excellent recommendation relating some of the history of black people is the film, Just Mercy. This is a great place to start and is available on streaming platforms.
FOOD DISTRIBUTION
Sunday, June 14, 10am, 600 18th Ave N Minneapolis, MN 55441
Verna and Shane Price are coordinating food distribution at a North Minneapolis high rise that houses 250 residents. Most of the volunteers are being provided through the Power of People replanting program. This program helps to "replant" men who have been incarcerated. It's a great opportunity to support black leaders who minister to people in the city.
CONTACT
The Grove Church of Maple Grove 
The Grove  Church is also in the Minneapolis area and currently led by Scott Foster who is the executive pastor. Scott expressed how it has been hard for the Twin Cities. The North Central District Superintendent Brian Farone actually gave the broadcast sermon that morning on May 31, 2020. Brian, whose talk begins at 25:00 minutes into the broadcast said he wished they could be together spoke directly to George Floyd's death. Farone said that his heart is heavy and heartbroken over the murder of George Floyd and the civil unrest that has taken place. He shares in their lament. Brian Farone was at Maple Grove because its senior pastor Jon Platek was fired for plagiarism it appears. The Grove Church is in a difficult spot it appears. Brian spoke about suffering and did so in the context of the church pain, Minneapolis riots and other challenges going on. 
Trinity City Church of Saint Paul
Trinity City Church is an EFCA and Acts 29 church located in Saint Paul, Minnesota. The church is led by Bryan Lair. For the record this is a church that has taken a strong stand on racism and injustice. After a violent Neo-Nazi rally in Charlottesville, Virginia Bryan Lair's church put out a statement on the event. This blog wrote about it and appreciated Bryan Lair's efforts. You can read that in, "How Acts 29's Trinity City Church in Saint Paul, Minnesota Responded to the Neo-Nazi Rally in Charlottesville." Trinity did a lament on their page and addressed the issue of George Floyd on Facebook. Some from Trinity it appears worked in helping to clean up some of the riot impacted areas close to Trinity. Trinity also dropped off food for those impacted by the riots. A write up by Brian Lair along with pictures of the riot impacted area was posted to the EFCA's Facebook page. You can see all this below. 
On May 31, 2020 Bryan Lair gave his sermon which you can see above. the Acts 29 pastor wanted people to remember George Floyd as he beared the image of God. In referencing Psalm 52 Lair said three things that needed to be done. 
The church must condemn injustice. 

Racism must be condemned. 

People needed to stay faithful to the Lord. 
Bryan spoke about how people in the African-American community taught Bryan not just to read a quote from Martin Luther King but to process his speeches. He called on people not to be partisan and to condemn injustice. Systemic racism has been a part of our culture since our founding. Racism, after all is America's original sin according to Bryan Lair. He also said that one thing to remember is that the racism issue has always been there, it has not gone away, its just being cpatured by cell phone camera. This blog published in a separate post the lament for those who can't breath in, "Trinity City Church in Saint Paul Adapts a Lament For Those Who Can't Breath."